Requirements
Be a Webcast Manager for the event you wish to invite the users to.
Objective
You are creating a new Webcast event and you wish to invite/enable many users to the event and/or more SSO groups. From the product itself, you can add a complete email domain (which means that all users that have access to an email address within a specific domain, e.g. *@yourcompany.com can enter the event).
In case, you do not want to enable a complete email domain but some specific users, you can create an Excel list with the user's addresses and attach it to a ticket.
Step-by-step guide:
1. Create the event
2. Create an Excel File
Now, you will need to create an Excel file. In the Excel file, just add in the first column the list of all participants or SSO groups, you want to enable the event (no other extra column).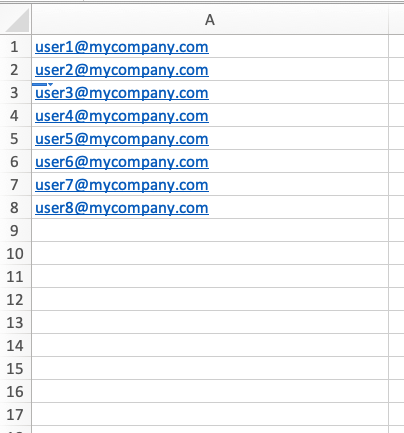 Save the file using an Excel extension (e.g. .xlsx)
3. Send the users list
Open a new ticket here through the Help Center, attach the Excel file you have just created, and specify if you want the list to be added as general attendees of the event, SSO users, or SSO groups.
Communicate in the ticket your Webcast Manager Account name (normally it is the name of your company) and the Webcast Name/ID to which you wish the users/SSO groups to be added.
We will upload the list as soon as possible. We recommend sending the Excel list at least two working days in advance, we will inform you as soon as the import has been done.