Requirements
You need to be a support admin for your account.
Objective
In order to open a support request with our team, you will need to have support admin rights. If you do not, please address yourself to one of your support admin.
For any contractual-related questions, please address yourself directly to your Customer Success Manager.
Step-by-step guide:
1. Log to our Help Center: https://movingimage.zendesk.com/hc/en-150 with your credentials.
NOTE In case you have already communicated with us through our old support email and you are logging in for the first time, you have to set up a password before logging in.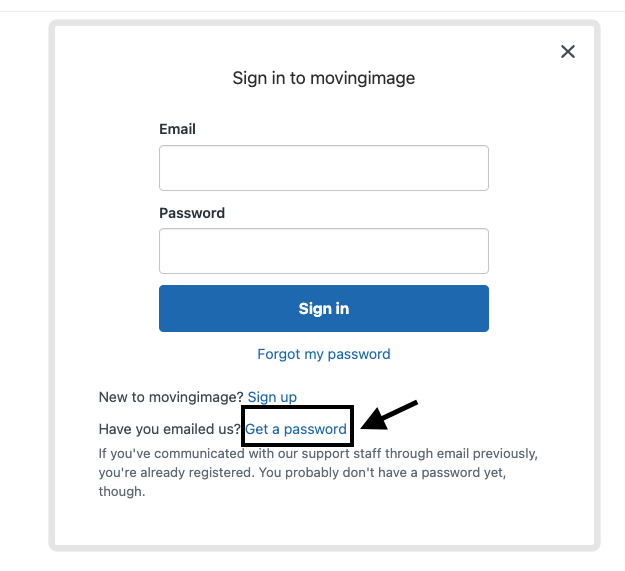 2. From the home page, click on "Submit a request".
3. Follow the instructions and fill out the form. Please, include as much as relevant information as possible, depending on the case you are reporting.
Depending on the issue you are reporting, please have a look at one of the following articles:
If you are reporting a bug on a VideoManager Pro video embedded in a web page, please go to this specific step-by-step guide: https://movingimage.zendesk.com/hc/en-150/articles/360021552939.
The main information to be added in all cases
| | |
| --- | --- |
| FIELD | FUNCTION |
| CC | Here you can add a colleague or any stakeholder of the case |
| Subject | Summarize the main topic of the ticket* |
| You are contacting us because... | Select if you need technical support (e.g. you are reporting a bug, have some technical questions) or you are requesting a managed service (e.g. a report, a training, etc.) |
| I am reporting a case about the following product | Select which product the ticket is about. Depending on your answers, new fields will appear. Please also insert the functionality the ticket is about. |
| Description | Enter a description as detailed as possible, inserting all possible information. A good description will decrease our ticket resolution time. |
| Attachments | Attachments are optional but highly recommended and in some cases necessary for us to comprehend the problem/question. Especially for bugs, please include a screenshot with the developer tools open on the "Network" tab. |
*NOTE While inserting the subject of the request (in English or in German), our system will offer you all the articles that are related to the topic. We suggest you have a look at these articles, they may already contain the answer you are looking for.